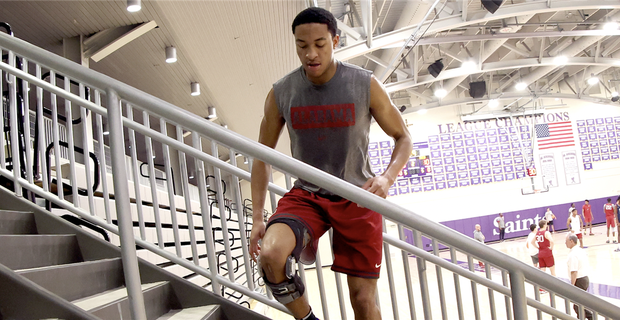 Tuscaloosa, Ala. – One week before the Alabama men's basketball team left for Spain to begin its overseas tour, fourth-year coach Nate Oates gave the latest injury news.
Redshirt sophomore Nimarie Burnett, who missed the 2021-22 season with a knee injury, returned to the field on Friday when reporters were allowed to watch the last 20 minutes of training and he was moving well. Oats said Texas Tech's transfer is no longer limited.
"Nmari hasn't been tied down for a while now," Oates said on Friday afternoon. "He can do everything in practice. Maybe there's a transitional exercise here or there that Clarke – depending on how many days in a row we had – just to make sure he's not tired. But he's pretty much complete, and he looks good too. He shoots, he attacks and he plays defense." well ".
Burnett spoke to the media for the first time, and shared what he learned from his red shirt season.
"I've learned a lot from seeing things from a different perspective sitting on the sidelines," Burnett said. "Seeing things in their full perspective, from a coach's perspective and seeing them for what they are. I've learned more about attacking, defending and the personalities of the coaches than I would have if I had been on the ground. I learned a lot about the personalities of returning players and how everything is built during the season.
"Because I was playing off-season before the season, before I got hurt. It was like the same thing but just with a different atmosphere. When the season started, everyone was on edge – an advantage – and ready to go. You know that was a big problem for me in this. I feel really good physically. I have the best coaches, the best staff in the world to help me get to where I am today."
Rookie guard Jaden Bradley, one of the two five-star nominees to sign with Crimson Tide during the 2022 recruiting cycle, is also back on the field after losing time due to surgery on his foot. During Friday's training, Bradley served as the white team's starting guard, while Ohio transitional Mark Sears and original Mansell Schulz played for the Crimson.
"Jaden Bradley is coming out of foot surgery," Oates said. "He's going to be limited to limited minutes in the outside round just to make sure we're smart with it. We've had six straight days this week. This was our fifth day in a row and we have an in-group brawl tomorrow, which will be a full 40 minute match. We've been trying to make that practice More like a pre-game day practice, so today there was nothing Jaden was restricted from doing just because he was limited anyway.In a full practice, if we were going for a full two or two and a half hours, he'd be limited to a few things, just to be smart.
"…But he got there. He got in better shape. He stopped playing basketball for 4-5 months. He just has to get back into the flow again. But she is coming for him."
The only Grant player who didn't take part in Friday's training session was senior guard Jahon Quinley, who sustained an ACL injury in Alabama in an NCAA Championship loss to Notre Dame in mid-March. Quinerly was on the sidelines and joined the rallies during the final 20 minutes of training, and Oats provided a positive update on the rehab process.
"He doesn't exercise, but he does a great job," Oates said. "He's really focused on his rehab and his nutrition. He's getting his body back to where it should be, training his weight. I think Henry, our new strength trainer has been great. So Jahvon was there. I think he's on the right track. We were hoping to get him back by SEC play We might bring it back a little earlier. It would be great if we could get it into some non-conference games before we start playing in SEC.
"So he's doing a good job."
Alabama will depart for Barcelona, ​​Spain, on Friday, August 5, and will play its first of three matches on August 8 against Spain's Select team (7pm local time). Tide will then play two matches in Paris – August 11 against the Lithuanian men's B team and August 12 against the Chinese national team (both matches take place at 7:30 pm for the local team) – before returning to Tuscaloosa on August 14.
Did you know BOL has a podcast? The BamaOnLine podcast brings you the latest Alabama news and insights from Travis Rayer, Charlie Potter, Hank South and Tim Watts. Catch the last episode over here or Subscribe to iTunes today!
Connect with Charlie Potter in a personal message or on Twitter (Tweet embed).